The Maldives Now Offers An Underwater Hotel Room For $50K Per Night
On a recent trip to the Maldives, my entire itinerary was planned around one single hotel amenity: an overwater bungalow with a built-in, two-story waterslide. (Never mind the bedroom's retractable roof and the floating catamaran nets by the private pool.)
Here more than anywhere else on Earth, it's extravagant design features—rather than a convenient location or knockout restaurants—that make a hotel.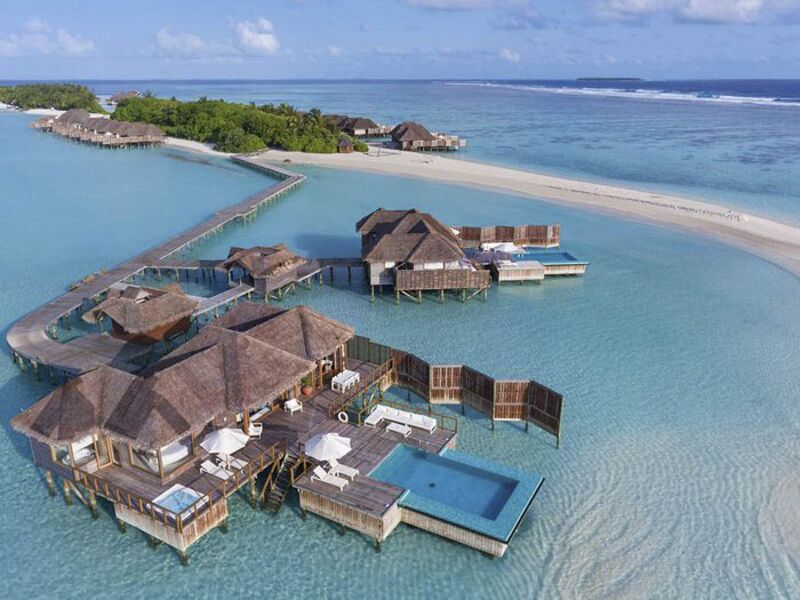 A sprawling over-water villa at the Conrad Maldives Rangali Island.
Source: Conrad Maldives Rangali Island
After all, you're not in the Maldives to explore a new country. You're there to feel like the world's most glamorous castaway. Your hotel room is your destination; you'd better pick a good one.
Enter Conrad Maldives Rangali Island, which is shaking up the formula of Maldivian luxury with the region's first-ever underwater bungalow. (You read that right.) When it opens late this year, the Muraka, which translates to "coral" in the local language, Dhivehi, will have cost $15 million to build—but the experience of sleeping 16.4 feet below sea level can be all yours for a cool starting price of $50,000 per night, before taxes.