How Badly Did This Iowan Need A Boat Trailer?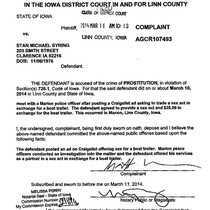 Posted March 14th, 2014 @ 2:02pm
Badly. Meet Stan Syring. He posted an ad on Craigslist looking for a boat trailer, and proposing a swap that could involve sex. Well that got the attention of the Marion County sherriff's department.
The Smoking Gun website has more HERE.
Here's the criminal complaint:
(Image Source: TheSmokingGun.com)