We Call This Street Justice...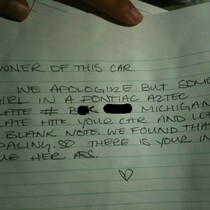 Posted April 10th, 2014 @ 12:34pm
Note left on a damaged car. This is awesome!
And then the guy who parked his BMW in front of a fire hydrant--that actually need to be used. The FD dented the heck out of it, and broke out the windows. That's why BMW stands for Break My Window!